Field Serviceable AWEIS High Capacity Commercial Grade 510K Btu/hr
The AWEIS HC is a slightly larger version of the AWEIS SC in terms of physical dimension but delivers considerably more gas than its smaller counterpart.
With a maximum gas output of 512K Btu/hr – which is a very large amount of gas - it can be used in the larger fire features that require a considerable amount of gas to create the desired effect.
Field Serviceable AWEIS High Capacity Commercial Grade with 18" Commercial Grade Pilot Burner. Includes 24 volt AC Transformer, Pilot Burner Assembly, Ignition Control Module, Heat Deflector Shield and Install Instructions. (Inlet Size: 3/4" FIP Outlet Size: 3/4" FIP) - 510K BTU's. (Pilot Burner sizes available upon request - 12"/18"/24"/30" // Extensions available after the sizes listed here.) - (2 Pin Molex)
Flame / Heat Sense: Thermopile
Ignition Type: Silicon Nitride Hot Surface Ignition (Glow Plug)
Standard Pilot Burner Configuration: (1) Pilot Burner)
Max. Btu Output: 512K Btu/hr.
Inlet / Outlet Size: 3/4" FIP
Operating Voltage: 12V or 30VDC

Valve Enclosure Dim NG: 5 1/2" x 4 1/2" x 4 3/4" (WxLxH)
Valve Enclosure Dim LP: 5 1/2" x 4 1/2" x 7" (WxLxH)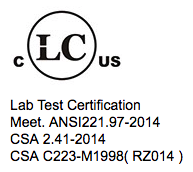 LIMITED WARRANTY Xtreme Fire Designz warrants its products to be free from defective material and workmanship for the period indicated below for each product line. The warranty time periods listed below are from the original date of purchase. Xtreme Fire Designz agrees to repair or replace, at its sole discretion, a defective product if returned to Xtreme Fire Designz within the warranty period and accompanied by proof of purchase. This warranty does not extend to any Xtreme Fire Designz products which have been subject to misuse, neglect, accident, incorrect wiring or to use in violation of operating instructions furnished by us, nor extend to any units altered or repaired for warranty defect by anyone other than Xtreme Fire Designz. This warranty does not cover any incidental or consequential damages and is in lieu of all other warranties expressed or implied and no representative or person is authorized to assume for us any other liability in connection with the sale of our products. Some states do not allow limitations on how long an implied warranty lasts, and/or the exclusion or limitation of incidental or consequential damages so the above limitations and exclusions may not apply to the original CUSTOMER. This warranty gives you specific rights and you may also have other rights, which vary, from state to state. If you have any questions concerning this warranty call (714) 318-5702. Electronic Ignition Systems (AWEIS SC, AWEIS HC, Vulcan Fire Module, Auto Fire on Water Surface System) All electronic ignition systems are warranted for (3) years for a residential application and (1) year for commercial application. As part of the three year warranty, in the event a system has to be replaced due to a defect/malfunction of the system, Xtreme Fire Designz will replace the system free of charge. This warranty does not cover labor costs. Problems in the functioning of the systems due to gas plumbing or electrical installed by others are not covered under this warranty. Xtreme Fire Designz is not responsible for the cost of labor incurred for replacing a system.