AWEIS-SC (All Weather Electronic Ignition System - Standard Capacity)
We offer the smallest, most reliable remote control module on the market. With a patent pending igniter and relighting system, you will enjoy hours of worry-free fire. Our All Weather Electronic Ignition System (AWEIS-SC) can deliver an impressive 290,000 Btu/hr, even under less than favorable weather conditions! This AWEIS is one of our most popular items because it is easy to use and compact enough to incorporate into a shallow feature. Dependable and versatile, there is no need to worry about your flame disappearing due to rain or windy conditions. The automatic start enables a quick restart and continued enjoyment!
Our remote-control system also has a built-in gas valve and an automatic safety shut off regulator. With the flip of a switch watch your fire features come to life.
New "Dual Pilot Gas Technology" which prolongs life of Igniter considerably
Maximum Gas Output: 290K Btu/hr
Inlet Gas Press. Limit: 0.5 PSI
Standard Pilot Burner Configuration: (1) Pilot Burner
Inlet / Outlet Size: 1/2" FIP
Electrical Rating: 24VAC/12VAC
Flame / Heat Sense: Thermopile
Ignition Type: Silicon Nitride Hot Surface Ignition (Glow Plug)
Control Box Dimensions: 4 1/2" x 5" x 4 1/2" (W x L x H)
OUR NEW 12V ELECTRONIC IGNITION SYSTEM MEETS THE NEW NEC 12V STANDARD AND CAN BE PLACED AND OPERATED NEXT TO WATER.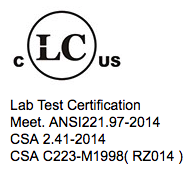 SCGNG - 24V Natural Gas Kit Includes:
AWEIS Standard Capacity with 12" Commercial Grade Pilot Burner / Natural Gas. Includes 24 volt AC Transformer, Commercial Grade Pilot Burner Assembly, Ignition Control Module, Heat Deflector Shield and Install Instructions. (Inlet Size: 1/2" FIP Outlet Size: 1/2" FIP) 290K BTU. (Pilot Burner sizes available upon request - 12"/18"/24"/30" // Extensions available after the sizes listed here.) Control Box Dimensions: 4 1/2" x 5" x 4 1/2" (W x L x H) • RC Module
SCGLP - 24V LP/Propane Kit Includes:
AWEIS Standard Capacity with 12" Commercial Grade Pilot Burner / LP. Includes 24 volt AC Transformer, Commercial Grade Pilot Burner Assembly, Ignition Control Module, Heat Deflector Shield and Install Instructions. (Inlet Size: 1/2" FIP Outlet Size: 1/2" FIP) 290K BTU. (Pilot Burner sizes available upon request - 12"/18"/24"/30" // Extensions available after the sizes listed here.) Control Box Dimensions: 4 1/2" x 5" x 4 1/2" (W x L x H)
SCG12NG - 12V Natural Gas Swimming Pool Certified Kit Includes:
Swimming Pool Certified Standard Capacity Commercial Grade / Natural Gas. With 12" Commercial Grade Pilot Burner Assembly, Ignition Control Module, Heat Deflector Shield and Install Instructions. (Inlet Size: 1/2" FIP Outlet Size: 1/2" FIP) DOES NOT Include Swimming Pool Certified Transformer - Sold Separately - 290K BTU. (Pilot Burner sizes available upon request - 12"/18"/24"/30" // Extensions available after the sizes listed here.) Control Box Dimensions: 4 1/2" x 5" x 4 1/2" (W x L x H)
SCG12LP - 12V LP/Propane Swimming Pool Certified Kit Includes:
Swimming Pool Certified Standard Capacity Commercial Grade / LP. With 12" Commercial Grade Pilot Burner Assembly, Ignition Control Module, Heat Deflector Shield and Install Instructions. (Inlet Size: 1/2" FIP Outlet Size: 1/2" FIP) DOES NOT Include Swimming Pool Certified Transformer - Sold Separately - 290K BTU. (Pilot Burner sizes available upon request - 12"/18"/24"/30" // Extensions available after the sizes listed here.) Control Box Dimensions: 4 1/2" x 5" x 4 1/2" (W x L x H)
3 years for residential use 1 year commercial use