AWEIS-Mini (Commercial Grade)
We offer the smallest and most reliable remote control module on the market. With a patent pending igniter and relighting system, you will enjoy hours of worry-free fire. Our remote control system also has a built in gas valve and an automatic safety shut off regulator. With the push of a button watch your fire features come to life.The AWEIS is one of our most popular items because it is easy to use and compact enough to incorporate into a shallow feature. Dependable and versatile, there is no need to worry about your flame disappearing due to rain or windy conditions. The automatic start enables a quick restart and continued enjoyment! With a maximum gas output of 125K Btu/hr – It can be used on burners rings up to 18".
Flame / Heat Sense: Thermopile
Ignition Type: Hot Surface Ignition (Glow Plug)
Ignition Sequence: Intermittent Pilot
Ignition Source: Pilot
Max. Btu Output: 125K Btu/hr.
Inlet / Outlet Size: 1/2" FPT
Operating Voltage: 24 volts ac/12 volts ac
Inlet Gas Press. Limit: 2.0
Valve Enclosure Dim.: 3 1/2" x 3 3/4" x 3" (tall)
OUR NEW 12V ELECTRONIC IGNITION SYSTEM MEETS THE NEW NEC 12V STANDARD AND CAN BE PLACED AND OPERATED NEXT TO WATER.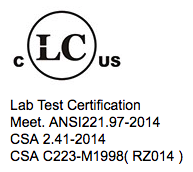 24 Volt Kit Includes:

• RC Module
• Heat Shield
• 24v Transformer
• Parts Kit
• Installation Instructions
12 Volt (Swimming Pool Certified) Kit Includes:

• RC Module
• Heat Shield
• 24v Transformer
• Parts Kit
• Installation Instructions
Click here for Installation Instructions.pdf
Xtreme Fire Designz warrants its products to be free from defective material and workmanship for the period of time indicated below for each product line. The warranty time periods listed below are from the original date of purchase. Xtreme Fire Designz agrees to repair or replace, at its sole discretion, a defective product if returned to Xtreme Fire Designz within the warranty period and accompanied by proof of purchase. This warranty does not extend to any Xtreme Fire Designz products which have been subject to misuse, neglect, accident, incorrect wiring or to use in violation of operating instructions furnished by us, nor extend to any units altered or repaired for warranty defect by anyone other than Xtreme Fire Designz. This warranty does not cover any incidental or consequential damages and is in lieu of all other warranties expressed or implied and no representative or person is authorized to assume for us any other liability in connection with the sale of our products. Some states do not allow limitations on how long an implied warranty lasts, and/or the exclusion or limitation of incidental or consequential damages so the above limitations and exclusions may not apply to the original CUSTOMER. This warranty gives you specific rights and you may also have other rights, which vary, from state to state. If you have any questions concerning this warranty call (877) 807-8923. Electronic Ignition Systems: (AWEIS SC, AWEIS HC, Vulcan Fire Module, Auto Fire on Water Surface System) All electronic ignition systems are warranted for (1) year with a limited warranty for (2) years. As part of the one year warranty, in the event a system has to be replaced due to a defect/malfunction of the system, Xtreme Fire Designz will replace the system free of charge. This warranty does not cover labor costs. Problems in the functioning of the systems due to gas plumbing or electrical installed by others are not covered under this warranty. In the event a system fails after the first year (from date of purchase) and within two years of date of purchase, the cost for a replacement system is at a discount rate of 50% of the current listed price. Xtreme Fire Designz is not responsible for the cost of labor incurred for replacing a system purchased at the discounted rate.